How the Citizen Card Works
Example: Goto FinanzOnline
The following steps illustrate, how you can log in to FinanzOnline for free with your Citizen Card.
Prerequisites

Prepare your card reading device. Install the required driver to operate your card reading device. The driver for the card reading device "Gemalto PC USB-SL für e-card" can be found at:
http://support.gemalto.com/index.php?id=pc_usb_sl
Connect your card reading device and insert your card.
Step 1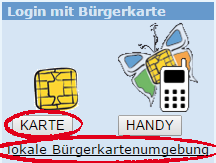 FinanzOnline
supports log-on with your activated card.
If supported by your browser (only Internet Explorer at the moment), you can directly use the Java Applet based
Citizen Card software
. As browsers increasingly depreciate Java-support, you usually need a local
Citizen Card software
installed and running on your device. After successfully starting this software, you can start the log-on process by clicking the link "Lokale Bürgerkartenumgebung".
Step 2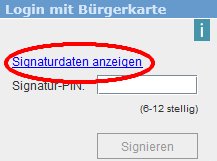 You can verify your Signature Data during the log-on procedure.
Step 3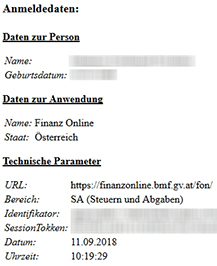 The Signature Data contain information regarding the application and the signing person. In this way you can easily verify what you are about to sign.
Step 4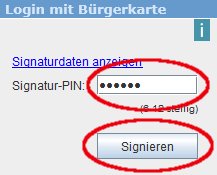 Enter your Signature PIN into the provided text field and confirm your data entries by clicking the Sign button (Signieren). You are now logged on to FinanzOnline.
General Hints
If you are using an older e-card, you might also be requested to enter your Card PIN between Step 1 and Step 2.
When you log on to FinanzOnline for the first time, you need to assign your Citizen Card to your social insurance number or tax number.