Sign PDFs with Your Mobile Phone Signature
The Mobile Phone Signature allows legally secure electronic signing of documents such as contracts, receipts, cancellation notices or forms (in PDF format). These files can then be sent via e-mail. The e-mail can also be signed. However, in comparison to the signed document, it is still relatively unsecure and often not necessary. The Mobile Phones Signature uses qualified certificates provided by A-Trust. In addition to basic services for citzens, A-Trust offers services for commercial use. Interested parties are referred to the Website Usage in the private sector (a-trust.at).
Tools for PDF Signatures
More Informationen on PDF Signatures
How do I Benefit from Signed PDFs?
Basically, signed PDFs take the place of anything you usually need to send via ordinary mail whether it's an official form or just plain text. E.g.: Insurance claims, mobile phone cancellation letters, bills, certificates, all types of contracts, notices to public authorities.
» Use Cases:
Send electronic bills

Small companies can save time and money. Just download software offered on this Website, such as PDF-OVER, and start sending bills as signed PDFs. The recipient is only eligible for a tax deduction if the electronic bill is signed with an

advanced signature

(or transmitted via an EDI algorithm). Requirements for electronic bills are defined by an official regulation.

Information related to legal bases

is provided by the Federal Ministry of Finance.

Note: The recipient must agree to receive bills in electronic form:

VAT Law (UStG) § 11. (2)

: A bill sent electronically is still regarded as a bill, as long as the recipient agrees.

Send cancellation notices or contracts via e-mail

Every company is obligated to accept signed PDFs as a declaration of intent (unless it is explicitly excluded in the company's General Terms and Conditions). Note: Although a signed PDF is "watertight", e-mails can still get lost in transit. Make sure to get a confirmation that the company received your e-mail.

Fill out the PDF form

Unfortunately, most PDF forms can only be filled out using Adobe Reader, and not saved. However, you can do this with e.g. the free

Foxit Reader

. Save the completed form and sign it. Then just send it by e-mail.
How is the electronic Signature represented?
The electronic signature of PDF documents is represented with the so-called signature block. In the past this contained the following information:
Illustration: Signature block until November 2014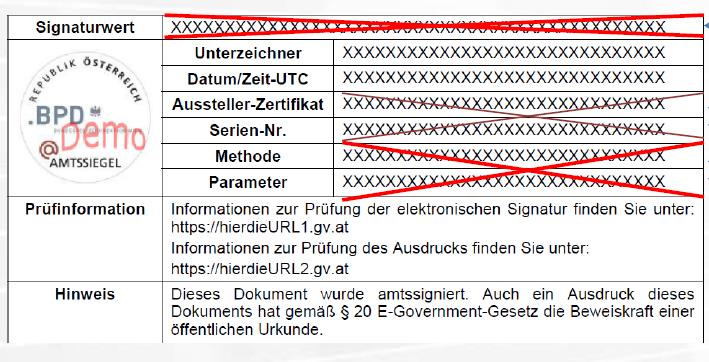 Starting from version 4.0 of the Signature software PDF-AS and/or PDF Over 4.1 this Signature block consists of fewer components:
Signature value (Signaturwert) --> not possible
Method, parameter (Methode, Parameter) --> not possible
Exhibitor certificate, serial no. (Aussteller-Zertifikat, Serien-Nr.) --> not necessary
Starting from November 2014 the same is valid also for Signatures, which are provided with the online Signature tool (PrimeSign).
Illustration: Signature block based on the Signature format PAdES

How Can I Verify the Signature?
A signature verification check is the only way to make sure that a PDF was really signed. This is even more essential with important documents. Here's how to verify a signature:
Online verification service:
Local alternative Adobe Reader (with a.sign PDF, hotPDFsign/hotPDFverify, or trustDesk professional installed):

Click on the menu Show Navigation Pane > Signatures and then on the Verify All button.
If nothing appears, be sure to get into contact with the sender. It could turn out to be a separate PKCS#7 signature. With this type of signature, there will be a separate file with a .p7s extension. In this case, verifying the signature is only possible using special applications.

More information regarding different types of PDF signatures

All signature types are based on the PKCS#7 standard. Three different signatures have been developed on the basis of this standard:

Adobe signature: The actual signature is saved in a special invisible area of the PDF file (called the Signature Dictionary in the Incremental Update Block). The signature is displayed in a special signature window in Adobe Reader.
PDF-AS: This signature is saved in a signature block and is shown normally along with the rest of the document. There is no additional invisible signature area.
Signature in separate .p7s file: The signature is saved in a separate file with the .p7s file extension. The PDF itself does not contain any references to the signature.
Do I Have to Accept a Signed PDF?
Short answer: Unless not explicitly excluded, yes.
Long answer: A qualified electronic signature shall have the equivalent legal effect of a handwritten signature (Art 25 (2) eIDAS-Regulation) and meets the legal requirement for the written form in accordance with § 886 of the Austrian Civil Code (ABGB) (§ 4 (1) SVG). Other statutory or contractual form requirements, particularly those entailing involvement of a notary or lawyer, are not affected. A businessperson may not rely on the effectiveness of a document with a qualified electronic signature being excluded in respect of a particular consumer unless this has been individually negotiated.
Legal Basis
Art 25 eIDAS-Regulation and Signature and Trust Services Act (SVG) § 4 (1), § 886 of the civil code (ABGB), if no other law prohibits its use or other terms have been agreed to.

Signature Standards
There are two competing standards for signing PDFs.
» PDF-AS Signatures (PAdES)
The EGIZ tool PDF-AS and the tool PDF-OVER provided by A-SIT support the European signature standard "PAdES" since 2014.
An older PDF-AS specification by EGIZ is just mentioned for completeness (AS comes from the German word Amtssignatur, meaning official signature. Now all Citizen Card and Mobile Phone Signature users can sign using PDF-AS, since the migration to PAdES following this European standard).
Software for PDF-AS Signatures
» Adobe Signatures
The specification is developed by Adobe (creator of the PDF format).
Background Information

Why do I need a plug-in?

Two reasons:

A-Trust - root certificate is not integrated into Adobe Acrobat.
Adobe does not support ECDSAencryption, which is used by the Citizen Card (i.e. no qualified signature). That is also the technical reason why the signature can't be integrated into Adobe's Sign Menu.

Adobe signatures are always binary (i.e. the file is signed just the way it is on the hard drive). Adobe signatures are not shown in the document. They are saved in a Signature Dictionary, which is part of the Incremental Update Block.

Advantages

Signature can be verified directly in Adobe Reader
Signature can be verified online
Qualified electronic signature as per Austrian Electronic Signature Act (SigG)

Disadvantages

Older standards and Acrobat Versions (before Acrobat 11) did not yet support the ECDSA algorithm, which is used by the Citizen Card and the mobile phone signature.